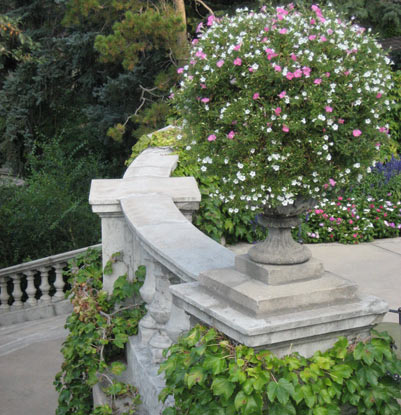 Architectural Elements
Architectural elements such as trees, shrubs,
fences, pergolas, retaining walls, raised beds,
water features and arbors can set the tone and
feel of your garden.
For example hedges, trees or fences can define
a garden's boundaries while at the same time
stylize your setting as Modern, Victorian, or
European, Cottage, etc.



Stone can be used for
paths, patios, retaining walls and terraces. It is important to choose
the right stone to compliment your
home as well as for the durability
and longevity of the project. The
right stone can add texture or
warmth for that finishing touch.


Seating areas can be a warm, cozy focal point in your garden.
Pergolas, arbors and decks add a three
dimensional aspect to your garden, creating
year round interest while adding more outdoor
living space that is great for entertaining or
simply relaxing.
Growing a vine, like Wisteria, Clematis or
trumpet vine, over a Pergola adds a splash
of spring or summer color as well as shade
and protection from the elements. As the
seasons change and winter takes hold, the
vines drop their leaves allowing the warmth
of additional sun light to pass through while
maintaining privacy and a place to enjoy with
family and friends.





Architectural Elements

can define your garden year round.